Studio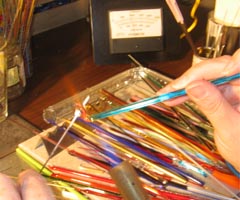 Lampwork is the art of melting glass over a torch, and creating something special. In my case, it is glass beads. They are tiny works of art, filled with layers and detail that change with the light and angle.
My studio is in Bethel Park, right outside of Pittsburgh. My studio name, Raisin Mountain, was inspired by our family dog. Raisin. Yep, Raisin rules.
I use the finest glass in my beads, from the Effetre (Moretti), and the Vetrofond glass factories in Italy, and the Lauscha factory in Germany. These imported glasses give me an almost limitless color pallet to create my designs. Though sometimes it is hard to believe when you look at the designs in lampwork, every bead is 100% glass, some with additions of fine silver, gold, and copper metals.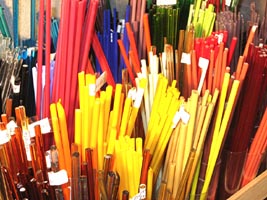 In making beads, the glass is slowly melted over a torch, and wound around a steel mandrel to give the bead its hole. Different colors of glass are added, and layered and manipulated to create the design. Each bead is then put into a hot kiln, so that it can be slowly cooled. This is called annealing, and relieves the stress in the glass, to give the bead the strength to last for years and years.
I like to vary my bead shapes and designs, but find I am usually drawn to complex florals, and multiple layers of transparents... the kind of beads you can get lost in. Most of my beads end up in jewelry, but I feel each one is beautiful enough to enjoy on its own.

Studio Mascot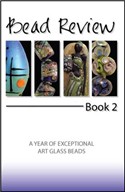 You can see my work in Bead Review 2.